As trucking companies head into 2020, the industry landscape appears challenging as declining freight demand, spot rate erosion, increasing transportation costs, and other market pressures contribute to a tough business environment. Rouse observed consistent softness in used truck values throughout 2019 in the auction markets, and this trend may persist in the new year as the latest industry indicators point to an unchanged outlook.
These industry dynamics are apparent in recent value trends. Rouse tracks auction data for truck tractors in addition to construction equipment. Below is a chart of the FLV value trend of both truck tractors and general construction equipment, which is an aggregation of aerial, telehandler, earthmoving, and support equipment.
Focusing on the most recent two years in the chart below, 2018 auction sales displayed an upward trend mirroring the relative strength in the trucking industry. In 2019, the aforementioned market forces caused a pullback in the industry which impacted used truck sales prices. Values consistently exhibited a weakening recovery profile across the breadth of truck brands and used vintages. While general construction equipment has also experienced similar fluctuations over the past several years, the impact of market forces was not as significant on general construction equipment values. Trucking companies face a unique set of challenges and values are more susceptible to volatility.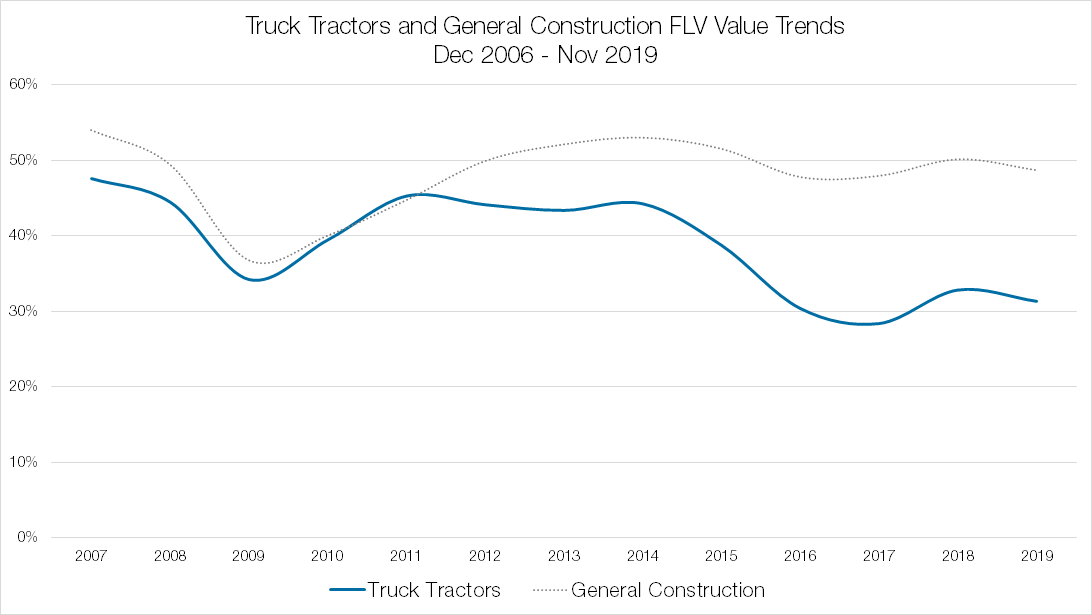 2018 was a strong year for the transportation and logistics industry as many companies posted record revenues driven primarily by high load rates. Trucking capacity was constrained by the driver shortage and demand was heightened as companies wanted to deliver their goods prior to the impending tariffs on China. Spot rates were well over $2.00 per van truck load mile through all of 2018, driving a surge in revenues.
As a result of the booming market in 2018, trucking companies fleeted up heavily to both capitalize on expanding margins and to beat the tariff increases. Logistics companies purchased a record number of class 8 tractors. However, this increased investment in new trucks led to an oversupply in the market. Furthermore, the Cass Freight Index indicates that freight shipment volumes declined in 2019 relative to prior year. The combination of weakened demand and increased supply drove down truckload rates. For most of 2019, van rates fell into the $1.80's according to DAT's rate data.
Other challenges included rising insurance rates and persistent driver shortages, which forced transportation companies to raise driver pay. As a result, revenues declined and expenditures increased, leading to significant financial pressures and resulting in the spike of bankruptcies in 2019.
The recent bankruptcy filing by Celadon, one of the largest logistics and transportation companies in North America, is illustrative of the current struggles of many companies in the industry. Celadon is the latest notable shutdown, adding to the tally of 795 carriers that have gone bankrupt through 3Q19 according to transportation data firm Broughton Capital. This count is double the number of trucking bankruptcies through the same period in 2018. Although 2018 marked a strong year for the logistics industry, 2019 quickly turned due to a softening spot rate environment, falling demand, and increasing costs of driver pay and insurance.
Although Celadon represents only a small fraction of the total industry, the broader market picture displays significant economic headwinds in the current climate. Slowing freight demand has caused order books for heavy-duty truck manufacturers to decrease and new truck orders are returning to normal market levels. In 2020, the environment is uncertain and trucking companies are being cautious. The used truck market continues to display weakness in value recovery. Rouse will track and report on this data as the year unfolds.
Rouse collects and tracks over $550 million of truck tractor sales and $160m of trailer sales annually spread across nearly 750 tractor models and over 4,000 trailer models. This information is used to conduct studies and analyses of used truck and trailer value trends by incorporating make, model, year, mileage, brand, region, and other factors that may be consequential to the valuation needs of our clients and for us to deliver the most accurate valuations in the industry.